2023-03-16
We have added a new feature to the Market Overview page.
Experience a visual comparison of the Relative Strength across various industries with our Treemap. In this Treemap, each rectangle symbolizes an industry. The rectangle's size reflects the total number of stocks within that industry, while its color signifies the BPR. A greener shade denotes a stronger industry, whereas a redder hue indicates a weaker one.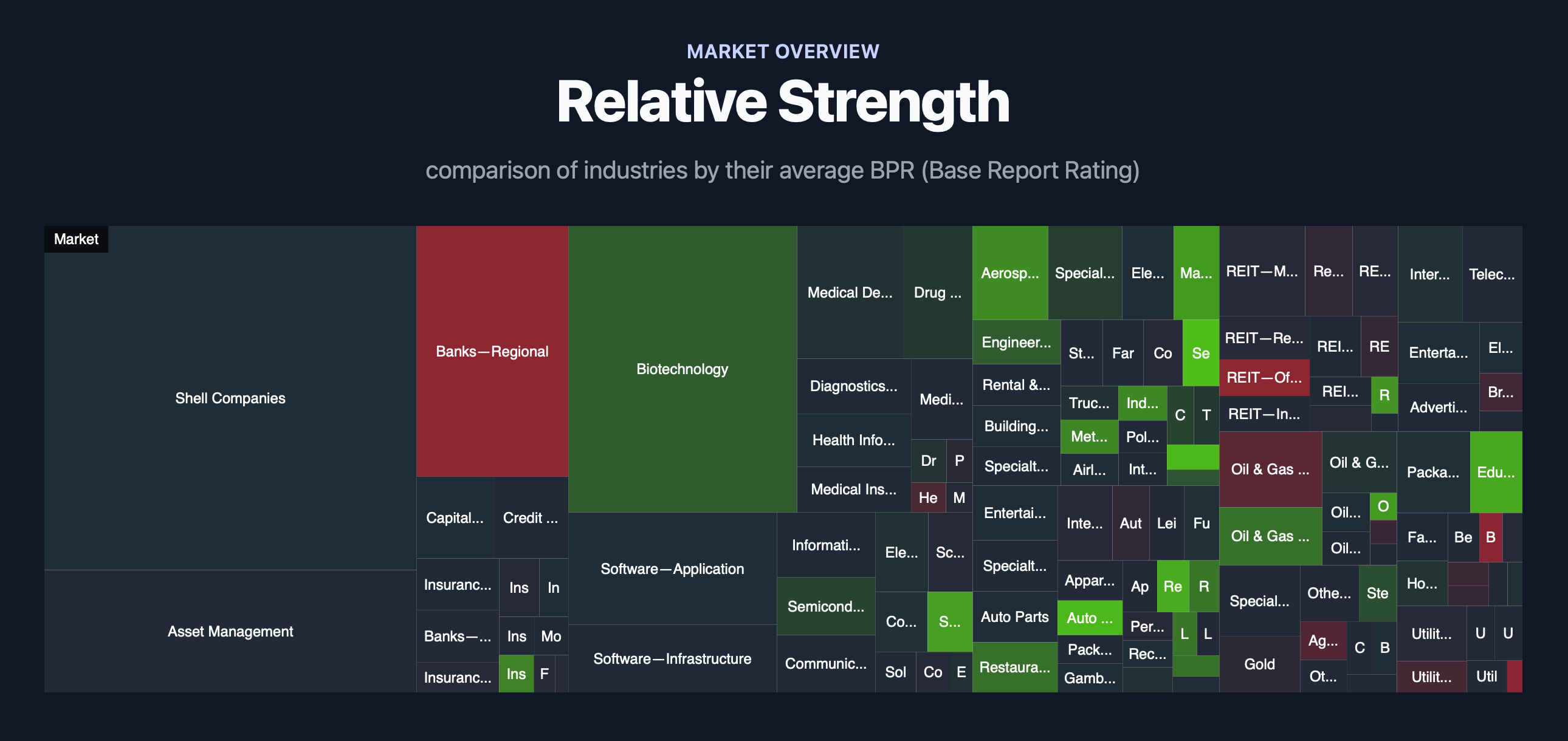 We hope that this feature not only augments your understanding of market dynamics but also empowers you to identify and capitalize on emerging trends in the ever-evolving stock market landscape.
---
2023-03-03

We have added a new export feature to the Screener. You can now export the Screener results to TradingView or TC2000. This is in addition to the existing CSV download.
To use the feature, click on the "Export" button the Screener. Then select the export format you want to use. The file will be downloaded to your computer. If you encounter any issues or have any suggestions, please let us know.
---
2023-01-28
In this video, we'll introduce you to the base.report Screener and show you how to effectively scan for stocks using the Qullamaggie Breakout Setup as an example. You'll learn about the key features of the Screener and how to use them to find stocks.
---
2023-01-27
We have just launched the base.report YouTube channel!
The first video is on the new Chart Study tool. It expands on the Move Finder feature from the report pages and allows more customization and flexibility. This has been under development for quite some time, and we're excited to finally share it with you. It sets the foundation for customizable widgets to further enhance your research experience. To learn more about the tool and how to use it, please watch the video above.
In an effort to give back to open source, we have also released the source code for the chart study tool. You can find it on our GitHub page.
We are also looking forward to bringing more videos to the channel. If you have any suggestions for topics, please let us know. We're always looking for ways to improve the site and make it more useful for you.